Standard Process for foreigners who wish to work in Thailand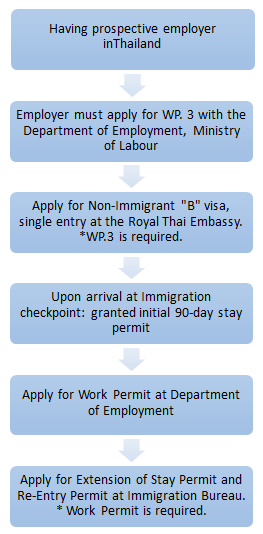 Required Documents for applying for a non-immigrant B visa
Passport or travel document with validity not less than 6 months

Completed visa application form

2 recent passport-sized photographs taken within the past 6 months

An Approval letter issued by the Ministry Labour and Social Welfare (Form WP.3) or an Approval letter issued by Board of Investment of Thailand (BOI) is required. In order to obtain this letter, the company in Thailand must submit the application at the office of Foreign Wokers Administration Department of Employment / at the Provinvial Employment Office or at Thailand Board of Investment.

Confirmation letter from the employer, stating the applicant's position, salary, and qualifications.

Working contract

Supporting documents of hiring company in Thailand as shown below

Copy of company profile

Copy of operating location of the company

Copy of Business Registration or Thai Business License, issued by the Department of Commercial Registration under the Ministry of Commerce

Copy of list of shareholders of the company

Copy of list of foreign workers stating names, nationalities, and positions

Map indicating location of the company

Copy of balance sheet over the last 1 year

Copy of current Statement of Income Tax and Business Tax (Por Ngor Dor 50 and Por Por 30) with a copy of the payment receipt (not older than 6 months)

Copy of value-added tax registration (Por Por 20)

For non-Swiss nationals, a copy of valid residence permit to stay in Switzerland

Confirmed air ticket

Resume and proof of education e.g. school certificate, and degrees

For applicant who has previously worked in Thailand, a copy of Work Permit issued by the Ministry of Labour, Alien Income Tax or Por Ngor Dor 91

Visa Fee of 80 CHF in cash only

In case that applicant's passport shall be sent back by post, an envelope with applicant's address and CHF 6.30 of stamps are required. The Royal Thai Embassy does not accept any responsibility for any kind of loss or damage from post service.
Remarks:
The Embassy reserves the right to request additional documents as deemed necessary and reserves the right to reject any application without having to provide reason

Visa will be granted for a single entry only. Upon arrival, travellers with this type of visa will be permitted to stay in Thailand for a period not exceeding 90 days per entry.

Extension of stay and Re-Entry Permit can be requested at the Immigration Bureau. For further information, please visit www.immigration.go.th or contact +66 (0) 2 209 1100